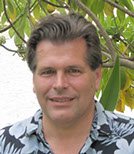 Keoki's Wallace's first movies were 'cut and spliced' Super 8s featuring his favorite activity, snow skiing. He is heavily into the performing arts, playing multiple instruments in symphony orchestras and working as both a singer and dancer in musical theater productions. He has directed orchestras and choirs as well.
During the 80's, Keoki served in the 142nd Military Intelligence Battalion, where he was trained as an interrogator. The Savings and Loan crisis saw him as one of the youngest Managing Officers in the Federal Home Loan Bank Board system where he took over management and operations of nearly a dozen failed financial institutions.
After passing the California Bar Exam in 1990, Keoki's practice focused on taxation, business and finance. He served in the American Bar Association's Taxation Section on a Subcommittee on International Taxation. He worked several years for Houston based Lorance & Thompson and Phoenix based Dominguez and Talamante before opening his own firm in San Diego, Wallace Associates.
Keoki worked for six years at Turtle Bay Resort, with the specific assignment of bringing Hollywood back to the location. His first success was the popular Forgetting Sarah Marshall, which paid the resort while promoting it as well. He worked directly with the producers of Soul Surfer for three years while the financing team that would back the production was put together. Other projects Keoki brought to Turtle Bay Resort include Pirates of the Caribbean on Stranger Tides; Journey II the Mysterious Island, Hunger Games Catching Fire and many more.
Keoki is the founder of Isles of the Sea Productions, It's More Than Just Numbers and Wallace Associates Group. He currently serves pro-bono as Chairman of the Board and President of the non-profit Ko'olauloa Educational Alliance Corporation and he also currently serves as Chief Financial Officer and General Counsel for AWS Events Group, the promoter of the Aloha World Sevens international rugby tournament.